People & horses
What We Offer
Journaling & Wellness Sessions
With the intensity of the current times, many of us experience that long-held beliefs are being challenged and old patterns don't seem to work anymore. When you're ready to make sense of everything you feel, then Journaling or Sessions with Alpacas and Horses is a wonderful process to gain insight and clarity about what your new future might hold.
Reiki Treatments
Reiki Treatments assist to help to create a relaxation response and help to promote a mind-body state conducive to healing. Reiki involves spiritual, emotional, and mental unblocking and rebalancing to help get to the root cause of a condition, get back on track, and create an optimal environment for the body to heal itself.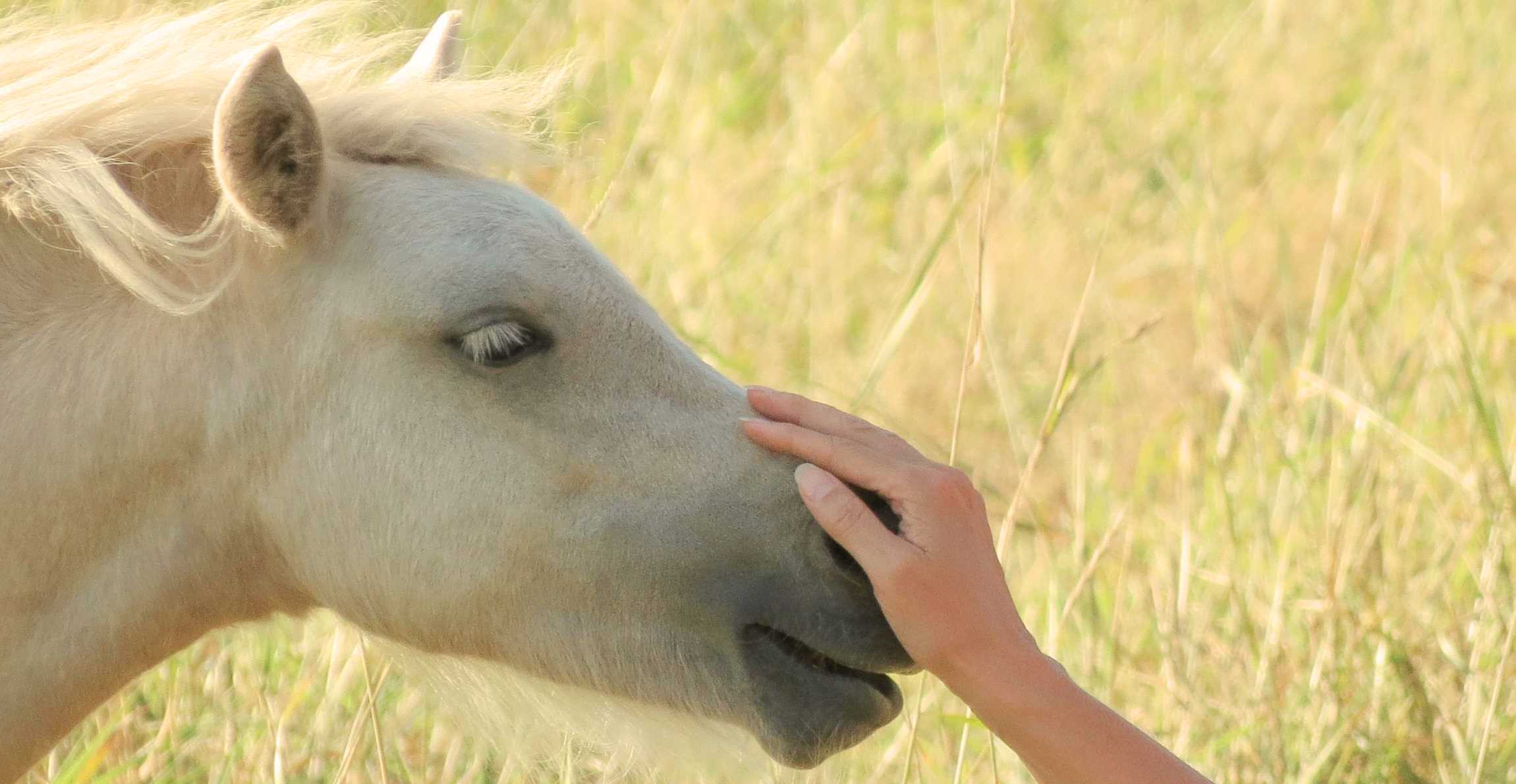 Course: Towards Self-Love
4 Steps  Towards Self-Love is a 1:1 online or in-person program in which you'll be empowered to realign with your true self, heal your past, find your inner balance, and learn how to fulfill your dreams. With this program, you'll get 4 personal sessions, one for each step, with detailed materials, guided healing and self-love meditations, and more. More Info
Nature inspired
Come and Experience Journaling & Wellness with Horses & Alpacas
Find answers to your questions, gain clarity about your next steps, and discover the courage to grow in a new direction.
Taking a deeper journey within not only allows you to heal the relationship with yourself, but also to transform the ones with others, like your partner, kids, job, or your animals. Visit us at our very private Serenity Hill Farm, located on the Gulf Islands in BC, Canada. Together we'll find a way to restore your wellbeing and to make your life more enjoyable again.
WHAT DOES A WELLNESS SESSION LOOK LIKE?
After completing the paperwork and talking a bit about safety, we may, depending on your reasons for coming (and the weather) either begin the session inside in our cozy 'tea room' or we may join the alpacas or horses in their paddock or field.
We will then give space for the session to unfold naturally and intuitively.
You might meet one of the mini you'd like to work with in the arena connecting with her in a more reflective way, or we may do a little walk together on a secure trail and for example talk about peaceful communication. Or we do a mindfulness or shaking practice together with the alpacas. Or it might just be connecting with the animals in their pasture, while processing your thoughts.
Equine and alpaca facilitated wellness sessions are a wonderful process and helpful to recognize what is being reflected back to us, opening the space for deeper insights, clarity, and healing. Me, my alpacas, and mini horses are already looking forward to meeting you. Let's see, if we can make sense together of everything you have on your mind and heart.
My Story
Hey, nice to meet You!
My name is Britta and I'm really passionate about inspiring you to finally prioritize yourself and your own wellbeing. In my sessions, I combine the best methods from different healing approaches like emotional and attachment-based approaches, nonviolent communication, energy healing, guided meditations, and more to find the ones that work specifically for you. My specialty is the attachment-based approach including the relationship styles developing from an insecure attachment, such as people-pleasing, controlling, or chronic caretaking, and in which ways we live these patterns in relationships with people and yes, our animals.
When I now think about which three things define me the most then it would be: I believe all animals are sentient, I love traveling to new places, and I'm convinced no one studies psychology without a good reason, so yes, I hear and feel you. Horses fascinate me since I was ten years old, and today I'm very lucky to share my life with four horses. They live on a paddock paradise track system and challenge me every day.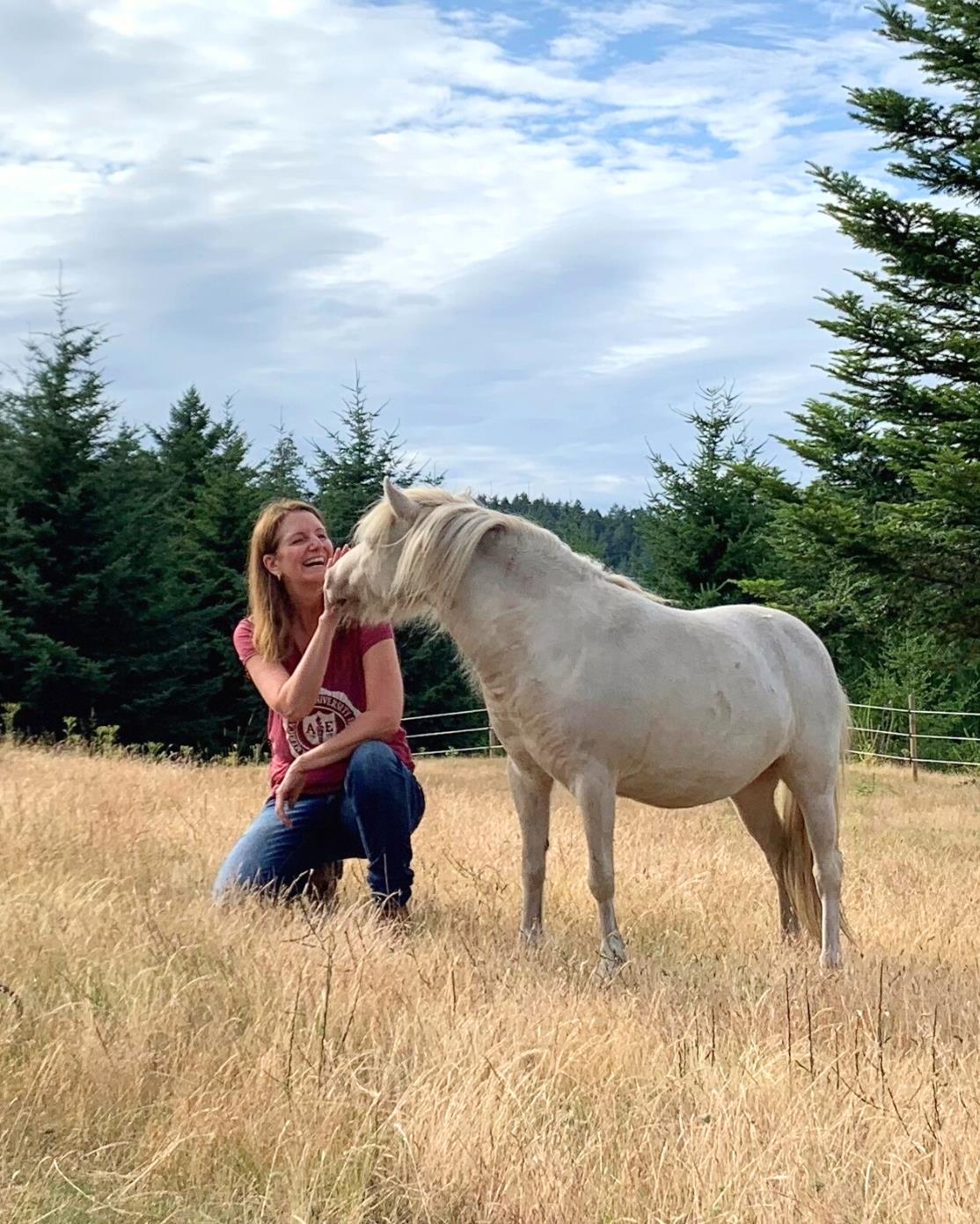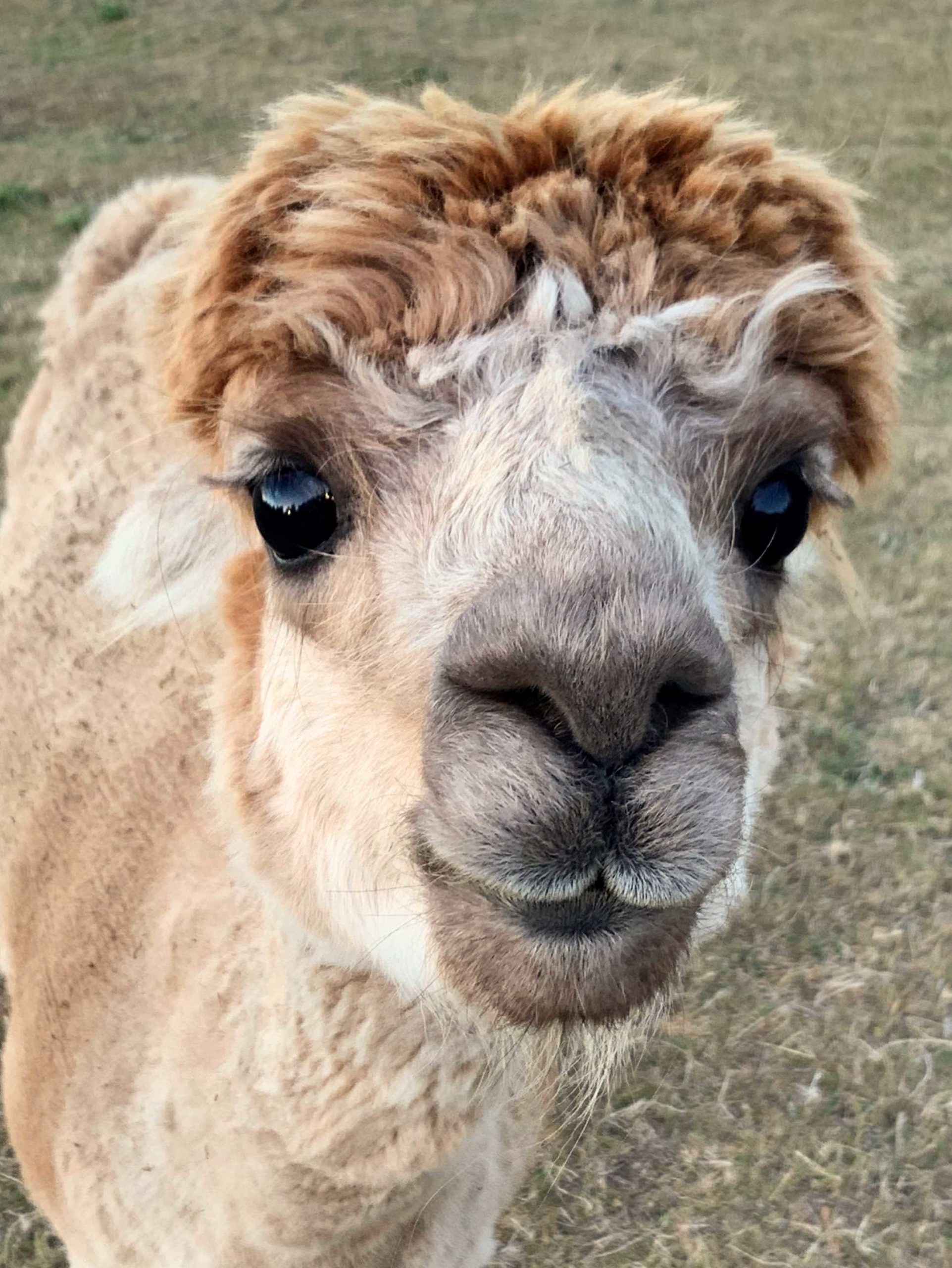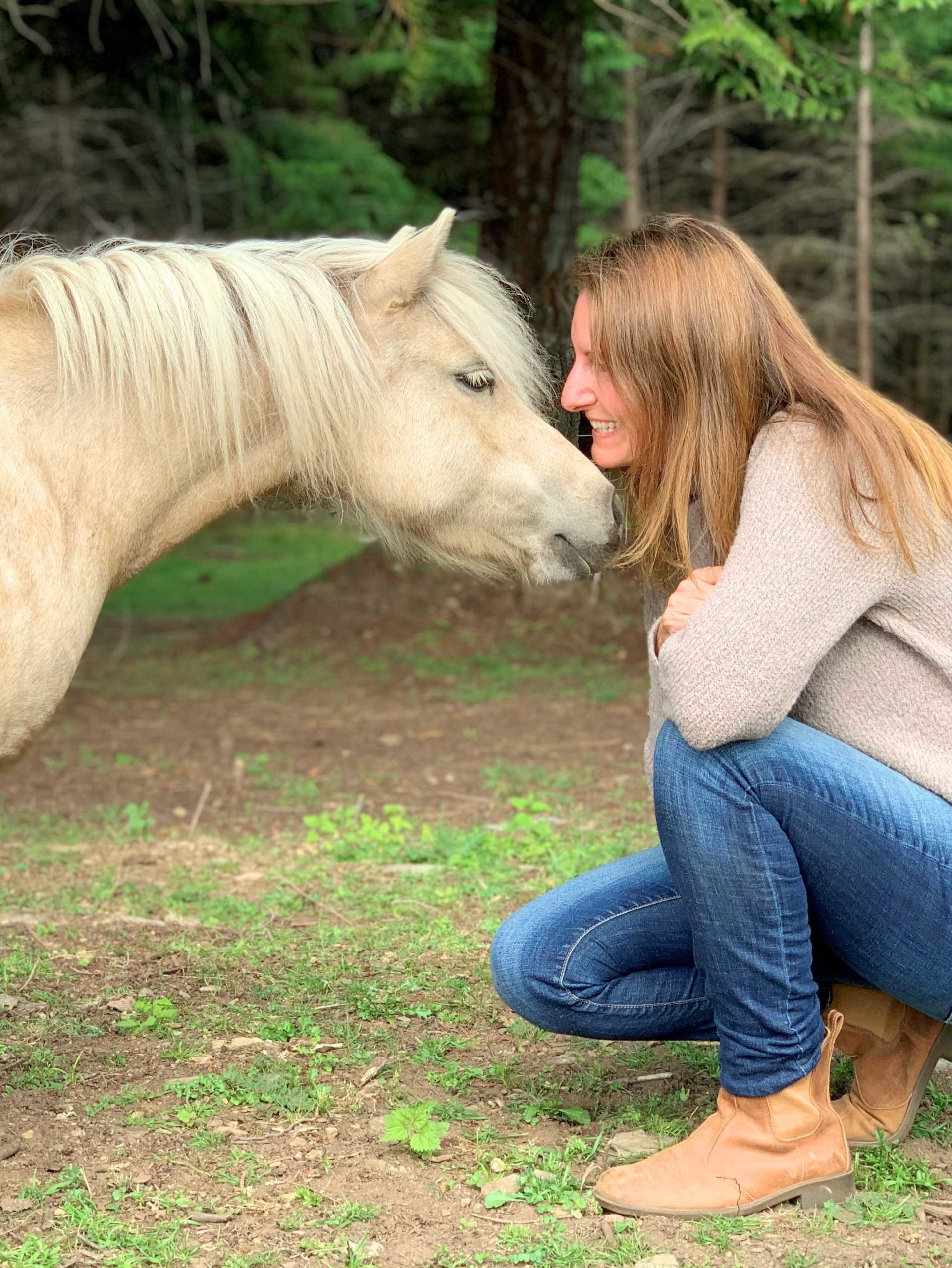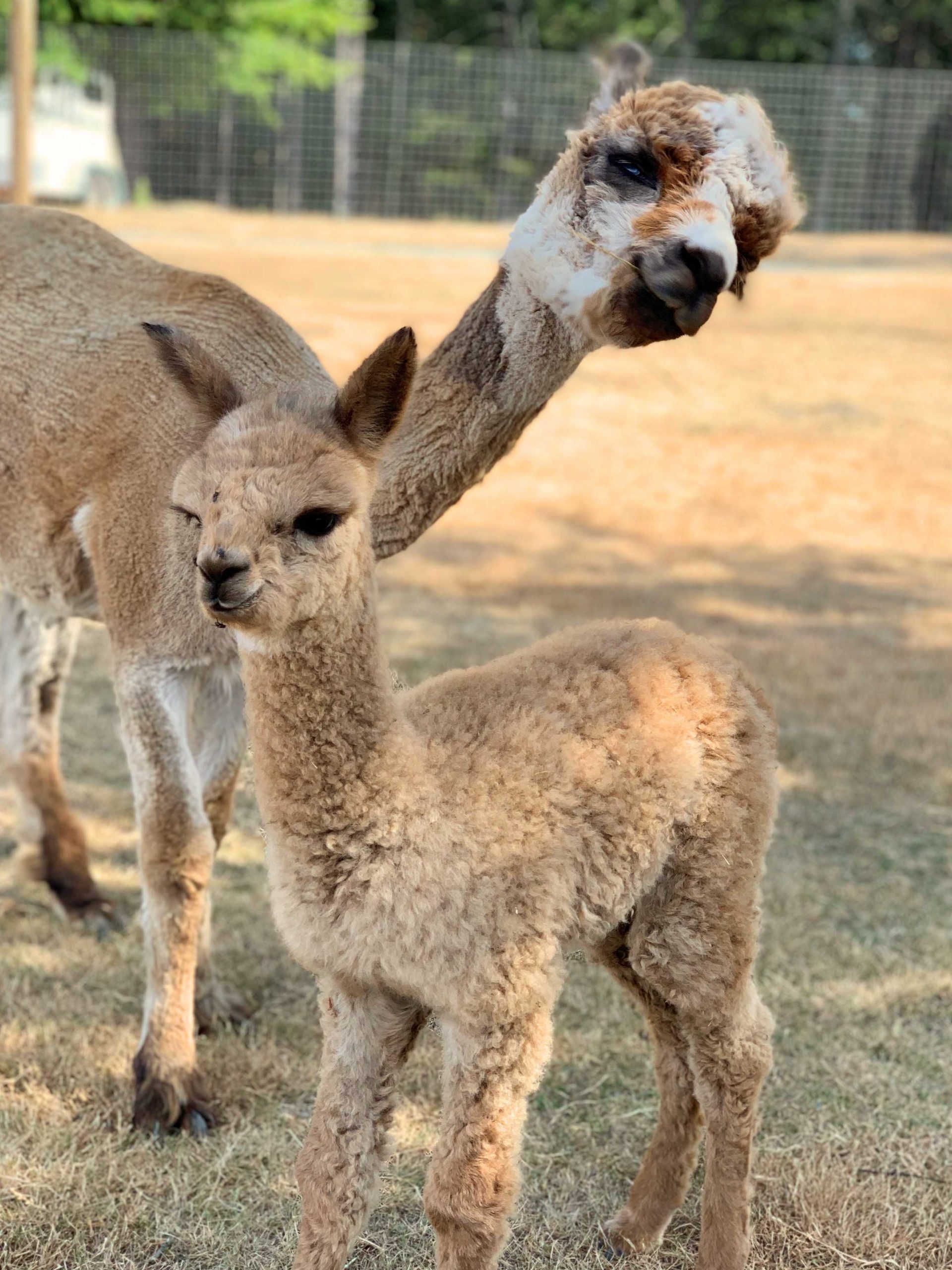 What is your professional Background?
Degrees & Certificates
Registered Counsellor with ACCT, Canada. 2-year training and certification as Equine Facilitated Wellness Professional with Pro-EFW. B.Sc. Psychology, University of Hagen, Germany. LLM eq, University of Frankfurt, Germany. 2-year Mediation & Conflict Resolution advanced training program, Justice Institute, BC, Canada. Certified Reiki Practitioner for People & Horses (Whispering Equine, AB, Canada), Trained Coach, CTI. ASD Certificate, Popard, BC, Canada. Trust Technique and Animal Communication (James French & Shelley Slingo).
Professional Experience
Self-employed since 2008 as counsellor and coach. German dialect coach for international film and TV projects since 2014. Junior lawyer (Justice Institute in Germany and in London, UK). Human Resources Consultant (Telekom, Germany). Project Manager (IIR International, Germany). Book: (published in German): Evolution & Selflove – The Normativity Hypothesis of the Attachment Theory under Critical Consideration of Cultural and Evolutionary Perspectives.
Why Journaling with Alpacas and Horses?
Meet the horses, minis, alpacas, and me at our beautiful and very private 'Serenity Hill Farm'. In our nature-inspired sessions, we reconnect with our bodies. rewire our brain, and nourish our soul.
Journaling with Alpacas and Horses: Philosopher J. Dewey believed that humans don't truly learn from an experience until they spend some time reflecting on it and analyzing how the experience is meaningful to them and relevant to their life. So, our time journaling together is not just about "journaling," but gaining clarity, growing, and making connections. It's a place where we can go to remind ourselves who we are apart from the roles we play every day.
Journaling: First we meet and greet the animals and hear their story. After that, we do a short mindfulness practice together and talk a bit about how to connect and yes, 'communicate' with the animals. Before you go and meet 'your' partner you like to connect with for the session (all sessions will be over the fence, no direct interaction) you might want to think about a theme, topic, or specific question you'd like to ask or reflect on. Journaling itself will be about 30 minutes. After that, we meet again in the group to reflect, hold space, share, and to listen.
What will I experience in a Wellness Session?
Meet the horses, minis, alpacas, and me at our beautiful and very private 'Serenity Hill Farm'. In our nature-inspired sessions, we reconnect with our bodies. rewire our brain, and nourish our soul.
Wellness Session: In a safe environment we'll slow down and detangle our racing thoughts. We will be together with the animals in nature and see if something shows up that wants to be looked at. When emotions like fear, shame, or anger come up, we allow them to be there, because everything that's part of our lives has its meaning and wants to be acknowledged. The goal is not to 'let go' of fears, frustration, or shame, but to find good ways to deal with – yes, to 'communicate' with them. We also talk about ways to set boundaries peacefully and what possibilities we have to move from overthinking to more calmness.
We'll also become aware of our relationship patterns, the nature of our attachment style and the relationship to ourselves based on previous relationships with people, animals, and situations. We find what is missing and explore how we can take our inner child by the hand to improve our relationships, the one with ourselves and those with others, and how to heal them step by step.
Allowing emotions and learning to be authentic is not only important for women, quite the opposite. Many successful men have lost touch with their roots, lost sight of the meaning of what they are doing, and thus ultimately lost themselves. They strive for success and often have particular problems allowing themselves to relax, come into their center and reconnect with their feelings, intuition, and heart.
A great first step if you're interested in a Wellness Session is to book your free 15 Minute Discovery Session. This is where we get to know each other and talk about if this could be something for you.
Wellness Sessions are ideal if any of this sounds familiar to you: Constant worries about daily life events, 'what if' questions, stress, list-making, perfectionism. Or your life is about to change and you feel unsure about or overwhelmed by it (e.g. empty nest, retirement).
Or do you feel your life is like on autopilot, that your thoughts are more in the future and the past, than in the 'here and now'? Do you sometimes feel you're missing out on life? Do you find yourself a lot of time distracting yourself by watching news, or spending time on social media? But at the same time, you feel like you're always in a rush and don't seem to have time to take a break and/or you have difficulty sleeping? Are you often frustrated about your situation, and you would like to give your life a new direction, but don't know what that might be or how to achieve it (e.g. self-employment, better work-life-balance)?
Or do you have difficulties in your relationships. It might be, that your partner isn't emotionally involved into your relationship anymore, insensitive, and unresponsive to your needs. Or do you have difficulties to say no, and always put the needs of others, e.g. your child's or parent's needs ahead of your own? Or are there control issues, that your partner is enmeshing in your life, maybe even to the point of trying to take complete control, like checking your phone and constant calls?
Or do you feel uncomfortable around other people? Maybe because you feel different and that you don't really fit in anywhere, for example because you're highly sensitive or a 'multipotentialite' (this is someone with multiple 'callings' or passions in life). Or do you feel no one understands and even attacks you for your ideas and world view or the causes you campion (e.g. animals rights, veganism).
Then me and my animals are very happy to meet you!
Please let me add, that I'm not qualified to work with you without the support of a qualified professional on issues like e.g. schizophrenia, schizoaffective disorder, bipolar disorder, severe major depression, personality disorders, autism as well as severe phobias, panic disorders or OCD. The same is true for people who have substance abuse & addiction issues or eating disorders. I'm also not qualified to work with people who experienced severe physical or mental abuse.
But you're still very welcome, because equine and alpaca facilitated wellness sessions can be a wonderful accompanying therapy for you.
What is Reiki?
Reiki is an energy healing modality and a treatment usually consists of placing hands on or over the part of the body that needs healing. This can be done by placing the hands directly on the body, but depending on the situation and your wishes the hands can also hover a few centimeters above the body without direct contact. Reiki is done fully clothed. During the treatment life energy flows, however, the energy does not come from the practitioner, we are only a channel for the universal life energy. Reiki teaches that life energy always flows to where it's needed. The hands are placed on the area that is at 'dis-ease', but the energy itself will find the place where it's needed the most. That's why Reiki doesn't require a diagnosis, in Reiki, we intuitively assess where there might be an energetic imbalance. When in doubt, I would always recommend seeing a medical professional. We offer Reiki for people and horses, in person as well as distant Reiki.
Reiki with Alpacas will be offered during the summer months between April and September. Sessions will take place in the alpaca enclosure, providing a very natural, grounding, and healing environment.
What is my Investment for a Session?
Self LoveSessions take place throughout the year between Monday and Friday, rain or shine. Just contact me for a time that suits you.
Wellness Sessions
Discovery Session (20 min) – free
Group Journaling (1.5h) – $35 CAD
Wellness Session (1h) – $120 CAD
EF Wellness Session (1.5h) – $160 CAD
Reiki Treatments
Reiki Treatment (1h) – $100 CAD
Reiki Package 5 treatments – $450 CAD
Reiki Session (1.5h) – $140 CAD – (treatment + 30 min. Follow Up)
Course: 4 Steps in 4 Weeks Towards Self Love
Sessions, Meditations and more: This 1:1 course contains 4 sessions (1.5h), either in person or online. Your investment: $888 CAD
Single Sessions: You can also decide to book just one of the sessions (1.5h), your investment then is $222 CAD.
Find the Forms to fill out here
Payments are due at the end of each session and can be made by cash, check or e-transfer to: britta.zeimer@gmail.com (auto-deposit).
Coverage
If you live in BC, Canada our sessions may be covered in full or part by your health insurance or employee benefit plan. Please check with your insurance provider or employer in advance whether counselling services are covered. The following insurance companies and benefit providers in BC have agreed to reimburse my services for plans that include counselling services: SunLife, Pacific Blue Cross, Green Shield, Manulife, and Claim Secure.
Sliding Scale
I have a limited number of sliding scale spots available for those who would not otherwise be able to attend therapy. Please speak to me directly if you face financial barriers to therapy and we can discuss how it might be made more accessible to you.
Cancellation
If you don't show up for your appointment without prior cancelation, you'll be expected to pay the full fee for your session. When you provide less than 3 hours' notice, we kindly ask you to pay 50% of the fee.
Location
We're located on Mayne Island, so when you live in (or visit) Vancouver or Vancouver Island BC, Canada, and you're willing to travel to the Gulf Islands, which are about an hour ferry ride away from either Vancouver or Victoria then we would be very happy to welcome you here. We're already looking forward to meeting you.
We are fully insured for all activities with our horses and alpacas.
How does it help me to talk to someone?
Are you unsure, if you'd just like to continue with your life as is now, or if you think it could help to talk to someone about what's on your mind?
Ok, then here are five reasons why it may be very helpful to talk to someone: 1. To get emotional support: Talking about things can help us finding validation, understanding, empathy and a sense of belonging. 2. To make sense of what's happening: It helps to process experiences and emotions and make sense of it. By the way, good for this is also journaling. 3. It helps us to realize we are more than our negative experiences: We are not defined by things that happened or are still happening to us. They don't take away any of our value. And they made us who we are. We're the victor when we face it and go through it, rather than the victim anymore. 4. It's a reality check: Negative experiences can make our understanding of the world upside down. Talking about it can debunk mistaken beliefs. Yes, what we experienced was abuse, gaslighting, guilt tripping, shaming, projection, feigned ignorance and more. And it was not ok. 5. To create purpose: Often, negative experiences sharpen our sense of purpose, remind us to focus on our family or community, or set us on a mission to give back, appreciate life, or realize our own strength and resilience. (Modified from a Psychology Today article 5 Reasons to Talk About Trauma | Psychology Today Australia).
Why Horses?
Horses are Guides
Horses are prey animals and as such very observant and intuitive and openly communicate what they sense – to everyone who's willing to listen. With that, they give us honest feedback and/or messages, which is very valuable information for our own healing journey.
Horses can read our Emotions
But is it really true, that horses can read us? Yes! Horses are masters of perception. In seconds, they recognize who we are and what's going on with us. With other people, we often hide behind the persona, we created to protect ourselves, but this is just not possible with horses. Their survival depends on correctly assessing our intention and energy. One very interesting way they read us is, that horses have the ability to 'smell' our emotions, even if we don't feel that emotion consciously, e.g. when we suppress it, like we often do with for example anger. But how do they 'smell it'? In all mammals the sensory neurons of the vomeronasal organ (Jacobson's organ) in the nose detects chemical cues. Notably, some scents act as chemical-communication signals (pheromones). A pheromone is a chemical that a mammal produces which changes the behavior of another mammal. Additional scientific evidence suggests that horses, like primates, have mirror neurons, who play an important role in our communication. A mirror neuron is a neuron that fires both, when an animal acts and when the animal observes the same action performed by another. Thus, the neuron "mirrors" the behavior of the other, as though the observer were itself acting. Also, and most importantly horses can feel our energy field, our intentions, emotions we're unconsciously carrying with us and of course, they can read our body language. That means horses smell, mirror, and sense on many different levels our worries, conflicts, and stresses. What they reflect back to us is usually the one theme that is most prevalent for us in that given moment we meet and when the behaviour of the horse occurs.
Consent
Everything we do with our horses and alpacas at liberty is based on consent. That means, we don't do things to or with them that they don't enjoy, as long, of course, as they respect our space. If we go out for a walk on the lead rope, however, there are certain rules they (and we) must follow to keep us safe and our communication peaceful.
My own Background with Horses.
I was about 10 when I started riding (classical dressage) in Germany and then I paused for quite a while, as I didn't like how the lesson horses were treated. Almost two decades later I started being with horses again. Then I moved to Canada and have since then explored many different training styles incl. Natural Horsemanship (Jonathan Field), Ribbleton Attunement (Paulette Clark), Horsefulness Training (Karine Vandenborre), Academic Art of Riding (Bent Branderup), Clicker Training (various trainers), Trust Technique, and Animal Communication (James French), and Chi Horsing (Sandra König).
If you volunteer or rescue Animals
If you're actively involved in animal welfare or you volunteer in an animal rescue or something similar, I absolutely encourage you to come and visit us for a session, if you feel that you're traumatized through what you experienced as an animal rescuer. I so understand you! Let's make sense of it together. And btw. if that's your reason for coming, I'll donate 50% of the fee for our session to farm animals in need.
Your Message for me
More Questions? Or Just Book Your Free 20 Minute Discovery Session!